35kV Al Alloy Bolt Type Electrical Strain Relief Clamp
Product Detail
Product Tags
Detail Information
Product Description
Name:
NLL Strain Clamps
Type:
Bolt Type
Certificate:
ISO9001/CE/ROHS
Voltage:
35kV
High Light:

35kV Bolt Type Relief Clamp

,


35kV Electrical Strain Relief Clamp

,


35kV Strain Relief Clamp
NLL Strain Clamps (Bolt type)
NLL series aluminum alloy strain clamp(bolt type) is suitable for aerial line up to 35kV,fixing aluminum wire or steel core aluminum wire on the strain pole,aerial insulation aluminum conductor and insulation aluminum cover are being used together,It is for insulating protective.
• The clamp body and keepers are aluminum alloy,cotter-pins are stainless steel.the other parts are steel, all ferrous parts are hot-dip galvanized.
• The clamp can be easily installed without damage to the cables or conductor;
• Grip strength of the clamp is more than 95% break strength of the conductor.
• Standard: IEC 61284-1997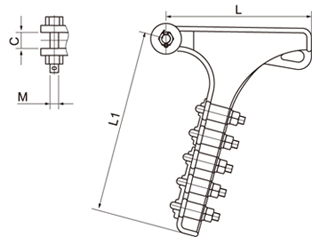 Technical data sheet
Catalog No.
Conductor Dia.
Dimensions

Rated Failure Load

Weight
M
C
L1
L
NLL-1
5.0-10.0
16
18
140
130
40
1.0
NLL-2
10.1-14.0
16
21
212
180
40
1.6
NLL-3
14.1-18.0
16
24
295
250
70
1.9
NLL-4
18.1-23.0
18
30
324
255
90
4.1
NLL-5
23.0-29.0
22
36
400
320
120
7.0
NN-6
27.0-38.0
22
44
560
360
120
8.1
---
---
Write your message here and send it to us